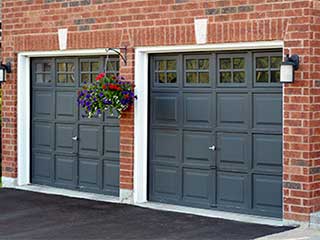 With several years of experience in the garage door service industry, our team has seen it all in terms of customer requests. While most of the calls we get can be considered routine, there are homeowners who are very specific about the type of door they want. We pride ourselves in being the best, not only in terms of getting the job done right the first time, but also in meeting and even exceeding our customers' expectations.
A Door For Everyone
When it comes to garage door installation, most requests pertain to the design and material of the door. Curb appeal is a major aspect of the decision making, as it can truly enhance the market value of a house. Gone are the days when these doors just did their jobs – now, they have to be pleasing to the eye and match the entire structure in terms of theme and style. Thankfully, Clopay and Amarr, two of our favorite door manufacturers, have yet to let us down. Their wide collections helped us provide our customers with exactly what they want. Here are some of the 'on-demand' garage door designs from these two manufacturers.
The Clopay Portfolio Line
Our residential customers love the look of Clopay's "old world" theme from their portfolio line. This collection is made up of garage door designs that have the carriage-house style. The style is known as the easiest way to warm up any drab-looking door. For homeowners who are looking for a traditional, classic, and vintage style, we usually offer a model from this collection. It's the most affordable and simple way to transform a cold-looking, boring garage door into one with more warmth and personality.The Best Collections from Amarr and Clopay
Beautiful Wooden Doors
The most common panel material used for models of this line is wood, since it truly suits the classical theme of the collection. If you require a more heavy-duty garage door, the portfolio collection also offers models that use steel panels. A faux wood finish is added over the metal, which makes it look practically as good as the real thing.
The Amarr Classica
Like Clopay, Amarr has its own carriage-house garage door line, called the Classica. These models are made to resemble classical and traditional doors through their shape and design, but with the durability of newer and more advanced materials. Door models from this collection come in two-toned colors to make them look more three dimensional. Most models of this line consist of three sections instead of the usual four and go up and down rather than swing outwards. The goal is to mimic the design of older door models without the inconvenience they presented.
Another Great Option
Apart from the Classica line, the Amarr Biltmore collection is another favorite of ours which can be great for homeowners who are looking for beautiful garage door designs. You may not have the budget to own a Biltmore estate, but you can always transform your garage to look like one. This collection is a hit with many people who want to add more elegance and grace to their home.