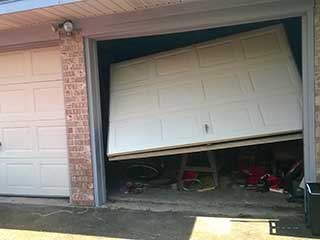 Some types of garage door problems can be unavoidable and the best way to handle most accidents is to reach out to a reliable service provider when emergency repairs are necessary. Our company, Garage Door Repair San Ramon, is here to help you with such scenarios. We maintain a same day response policy, and our technicians all stick to strict safety guidelines when repairing a problem. This allows us to maintain a high level of service, and to help local homeowners with a variety of issues while maintaining the fastest response time possible and delivering excellent results.
Fast Response To Emergency Problems
While some issues may not necessitate an immidiate response, a lot of garage door problems mandate an urgent response. If an overhead door spring snap or the system starts reversing and refuses to close, you can count on our technicians to quickly make their way over to your home and solve this problem as soon as possible. We always come with all the tools and replacement parts we may need to be able to handle such malfunctions on the spot.
Not Compromising On Quality
Our team won't just manage to arrive at your property quickly. We will make sure that the repair work we then carry out adheres to strict standards. This is achieved through our professional training and devotion to high-quality results. Our expertise allows us to repair problematic parts of all the major brands, including but not limited to Clopay doors, Genie openers, as well as Marantec and Chamberlain products.
We're The Experts To Call
Different garage systems can require different approaches. Being aware of these differences and the characteristics of every mechanism makes our technicians at Garage Door Repair San Ramos the leading emergency service experts in the area. Our specialists are truly professional and care about the safety of every customer. For this reason, you can expect our full support when you encounter emergency issues and need to have your damaged garage door tracks, rollers or cables repaired in as short a time as possible. Give us a call the moment you realize something is wrong. We always respond promptly and do our best to reach every homeowner in need as quickly as the laws of physics (and traffic) will allow.